Page 2 of 2 •
1, 2



Posts

: 41


Join date

: 2014-03-17

Character Sheet
Primary Character: Kyain Ava
Character Rank: Legionnaire
Cohort: Fifth Cohort


((I don't see why not, but I'm not sure of a reason for Kyain to be here. I suppose she could be one of the reinforcements, but I think it's already been established that she wouldn't be much use fighting... So you might have to come up with a plausible reason for her to be there. xP))



Posts

: 78


Join date

: 2014-03-13

Character Sheet
Primary Character: Daquiri Laurens
Character Rank: N/A
Cohort: Unaffiliated





Posts

: 46


Join date

: 2014-04-10

Character Sheet
Primary Character: Ren Shikami
Character Rank: Legionnaire
Cohort: Fifth Cohort


(Technically, I suppose the sentry that Campbell sent would have brought reinforcements. You'd still need to bring up why your character is there. Your character will be stuck, inside the maintenance tunnel, which isn't extremely wide, with Python blocking off the entrance and blocking most possible attacks save the hard scales that are directly in front of the entrance. This topic already has four people to begin with, and it's really starting to get full....)
Admin




Posts

: 37


Join date

: 2014-03-13

Character Sheet
Primary Character: Jake Luvolk
Character Rank: Legionnaire
Cohort: Fourth Cohort





Posts

: 46


Join date

: 2014-04-10

Character Sheet
Primary Character: Ren Shikami
Character Rank: Legionnaire
Cohort: Fifth Cohort


Campbell kept hacking away at the beast's hide. After one particularly solid strike on the monster's flesh, the wall of scales rapidly withdrew, leaving Campbell to stumble, off-balance, through the service tunnel, out into the light.

Looking up, Campbell saw the serpent rearing its head back, to strike. He quickly ducked behind his shield, thinking, This is going to hurt. A lot.

Moments later he felt an enormous impact on his shield, lifting him up into the air and propelling him backward. Luckily, he lost his grip on the shield and fell away from it as it was crushed to splinters in beast's jaws.

His feeling of relief was short-lived as he slammed into the wall, directly above the tunnel. He fell to the ground, stunned, likely with multiple broken bones.



Posts

: 33


Join date

: 2014-03-17

Character Sheet
Primary Character: Campbell Carver
Character Rank: Legionnaire
Cohort: Fifth Cohort


"I just got injured, thank you, and it's not even that bad," Daquiri lied. Her attention was only half on arguing with Terra, however, since it looked like the fight was now fully underway. She mentally winced when she saw one guy get thrown against the highway tunnel wall. That couldn't have felt very good. Looking at her own weapon, she knew she wouldn't get very far with it--it would only end up with the Python enjoying her as a nice demigod meal and then using her dagger as a toothpick.

"Terra," she said abruptly, "we need to distract it." Studying the scene from their position off to the side, she saw that most of the other demigods--as she assumed they all were--were all in fairly crucial fighting points around the monster. She figured that was their training showing through. They would all be trying to find an opening simultaneously, which was all well and good, but Daquiri had a feeling this thing had handled a lot more than a gaggle of demigods before. If they stood a chance, the best option she and Terra had at the moment was trying to get the monster's attention away from the main fighters. She imagined the group had tactics and formations that she and Terra would have no clue-in to, and would therefore be virtually useless if they tried to join it. No, it was best to go for the unexpected--the element of surprise that not even the experienced fighters could plan for.

"C'mon," she told Terra, jogging towards the tail-end of the Python. "We need to find some way to get onto that thing's back."



Posts

: 78


Join date

: 2014-03-13

Character Sheet
Primary Character: Daquiri Laurens
Character Rank: N/A
Cohort: Unaffiliated


Jake ducked and pressed against the wall with the maintenance tunnel as the giant snake whirled around, apparently peeved at whatever the people inside had been up to. Its tail had whipped over where he had just been standing and sent a truck swerving out of control. Mason had rushed up to attack and keep its attention outside of the tunnel instead of inside. 
This was stupid. 
Hacking away at thick scales against a huge enemy like this--they couldn't get anywhere soon with this few people. And anything longer than 'soon' would mean fatigue and easier targets for the monster. Jake stood for a moment and examined the area. There weren't any spikes or obvious terrain advantages. Mason had its attention at the moment, and he couldn't see where the two girls were from this vantage point. He worked his jaw and clenched his gladius. 
They needed a plan. 

Jake stopped, then glanced over his shoulder. In the closer lanes sat a large SUV, looking battered like it had rolled completely over. That could work. He shoved his sword back into its sheath and rushed over to the truck. The driver was blearily trying to get out, and Jake helped the guy out as quickly and as carefully as he could, then immediately turned his attention to the truck. He quickly noted the features and layout of the interior, and struggled to recall the specs of the model. He glanced up at the Python through the windshield. 
This could work. 
He just needed to make some adjustments. 
Preferably earlier than 'soon'.
Admin




Posts

: 37


Join date

: 2014-03-13

Character Sheet
Primary Character: Jake Luvolk
Character Rank: Legionnaire
Cohort: Fourth Cohort


Terra normally probably would have questioned the idea of climbing onto the back of a giant, ancient, snake of death. Only she knew it wouldnt get her anywhere, Daquiri was too stubborn for that. Also the fact that she could see why the redhead was saying this. These guys must have had years of training for things like this, and still they didn't seem to be doing very well against the Python. If they could divert it's attention, maybe the other demigods could find an opening of some kind.

It seemed more like suicide, but Terra had learned to trust Daquiri's judgement, even if the plan seemed as crazy or stupid as this one. Still it was better than getting in the way of the other demigods or standing there waiting to be eaten. So after giving a brief nod of understanding, she followed the redhead towards the snake's tail. All the while trying to avoid looking like a tasty demigod flavored snack.





Posts

: 72


Join date

: 2014-03-13

Character Sheet
Primary Character: Terra Bennet
Character Rank: N/A
Cohort: Unaffiliated


Daquiri's heart raced as she pushed the bangs out of her face and looked up at the truck that had skidded over onto its side, right next to the Python's tail. Her eyes darted around the battle scene, trying to take everything into perspective. Pretty much all the kids were trying to fight the monster head-on, but the redhead spied a blond boy off to the side messing with what looked like a SUV. She didn't have a clue what he was doing, but considering her current plan, it couldn't be much worse. At the moment, she just wanted to note where all the action was.

Grabbing onto the edge of the overturned truck, Daquiri started to haul herself, then stopped when numbing pain shot up her arm. She winced. In the heat of the moment, she'd already forgotten about her wrist. D*** thing. Turning to Terra, she motioned to the truck. "You'll have to get on then help me up. I can't put too much weight on my wrist." A thought nagged at the back of her mind, telling her it could be broken and she should protect it from getting worse, but she ignored it. She gave a grunt as Terra helped to haul her up.

"We'd better get on this thing before it moves," she said through gritted teeth, carefully balancing herself on top of the uneven surface. Crouching down, she crawled off the side of the truck and onto the Python's back. She tried not to shiver at the hard, cold touch of its scales. The parts of the snake they'd been whacking at might have been smoothed, but its back was rough and covered in jagged spikes going up its back. Rather perfect for climbing, actually. And it was wide enough across that, unless it started thrashing, would make it fairly unlikely to fall off.

"Let's try to get up to its head without dying," she muttered to Terra over her shoulder, grunting as she made a fist with her bad hand and pushed through the pain to put weight on the knuckles, using it to steady herself as she started to crawl up the monster's back.
_________________
Daquiri Rose Laurens; Daughter of Venus; Probatio
August Connelly; Son of Bacchus; Augur
'The girl was fierce, and was no stranger to hardship. However, she was unfamiliar with working within a pack, and her temperament often struck allies as well as opponents. She resisted any authority that wasn't her own, and refused to bend to anything less than her ideals.'
With Love,
Ceru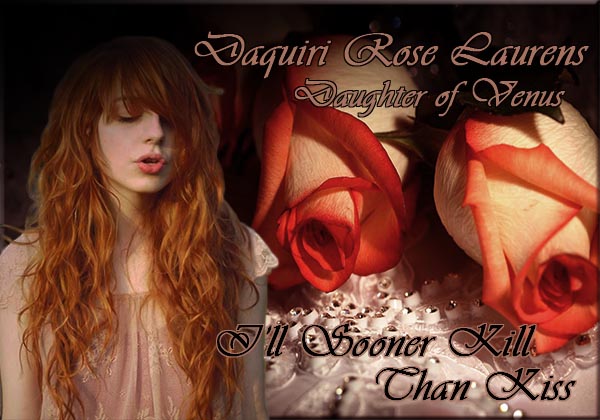 Posts

: 78


Join date

: 2014-03-13


Age

: 22


Location

: Am I allowed to say Azarath?

Character Sheet
Primary Character: Daquiri Laurens
Character Rank: N/A
Cohort: Unaffiliated


Campbell rolled to his side, and got up on his hands and knees, wheezing for breath. Yep, broke at least two ribs, Campbell thought.

Campbell felt the back of his head. He saw warm blood on his fingers when he took his hand back. His vision was patchy. Mostly black. However, Campbell saw in the clear patches that Jake was going for an SUV. Probably for some plan. He also saw the two girls climbing around and onto the monster's back.

Feeling blindly for his sword, swiping his hand over the cement, Campbell thought, Well, it looks like they could use a distraction. Finally finding Animus Campbell stood.... And fell, dizzily to the ground again. Swiftly checking that Jake and Mason hadn't seen his blunder, Campbell arose again.

The creature was currently facing Mason, fortunately away from the girls. Looking directly over the monsters back, Campbell saw that Jake was a bit off to the side, still in the monsters line of vision.

"Psst! Mason!" Campbell whispered softly to the other boy. "Come this way!" Campbell only hoped Mason knew that that would keep Jake to the Snake's blind side, while not revealing the girls.
_________________
Legionaire Campbell Horace Carver
Fifth Cohort
Son of Orcus
Descendent of Virtus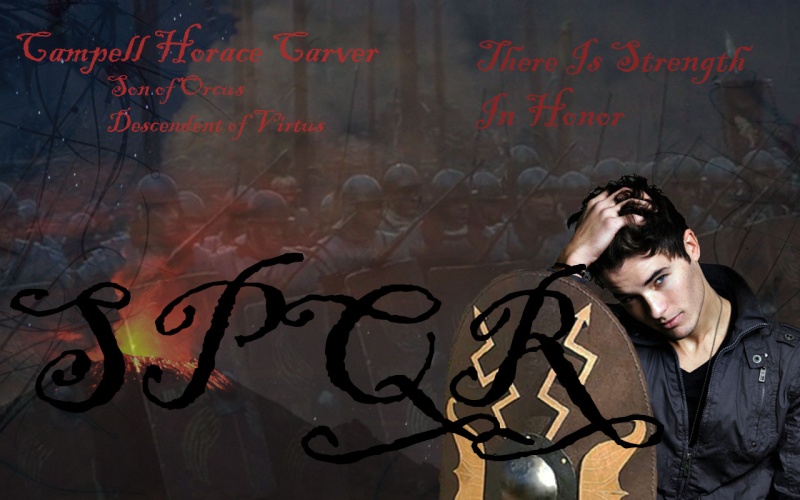 Posts

: 33


Join date

: 2014-03-17


Age

: 22


Location

: Over there.

Character Sheet
Primary Character: Campbell Carver
Character Rank: Legionnaire
Cohort: Fifth Cohort


Page 2 of 2 •
1, 2
---
Permissions in this forum:
You
cannot
reply to topics in this forum